Skip to main content
It looks like you're using Internet Explorer 11 or older. This website works best with modern browsers such as the latest versions of Chrome, Firefox, Safari, and Edge. If you continue with this browser, you may see unexpected results.
Overview
There are many ways to cite resources in your paper. The citation style usually depends on the academic discipline involved. For example:
MLA style is typically used by the Humanities
APA style is often used by Education, Psychology, and Business.
Chicago is generally used by History and some of the Fine Arts
Check with your professor to make sure you use the required style. And whatever style you choose, BE CONSISTENT!
Why Should I Cite Sources?
It is extremely important to give credit to the author or authors that you are utilizing in your research.
By doing this, you are:
1. Avoiding plagiarism.
2. Engaging in Careful scholarship.
3. Giving credit where credit is due.
4. Helping readers track down the original source.
Your Research is a Conversation
"The purpose of a research paper is to synthesize previous research and scholarship with your ideas on the subject. Therefore, you should feel free to use other persons' words, facts, and thoughts in your research paper, but the material you borrow must not be presented as if it were your own creation."
MLA Handbook for Writers of Research Papers. 7th Edition. New York: MLA. 55. Print.
DOI
DOI, or "direct object identifier" is a way to track articles and electronic documents on the web. Whereas the URL of a journal may change over time, the DOI for each article always stays the same.
Crossref.org is a resource for looking up DOIs based on limited citation information and, reversely, for looking up citation information based on a known DOI.
Credits
Special thanks to the 2013 Peer Mentors for helping update this guide. Helene, Melanie, Olivia, Rashad, and Sophia: you're the best!
Also, thanks to Butler University Libraries for letting us resuse their content.
What is a Citation?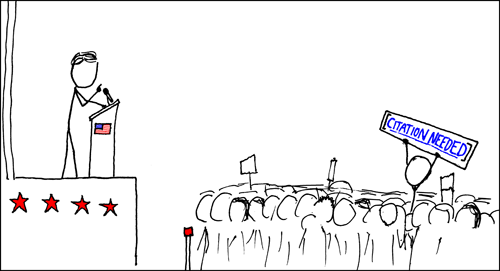 A "citation" is the way you tell your readers that certain material in your work came from another source. It also gives your readers the information necessary to find that source again, including: the author of the work, the title, the name and location of the company that published your copy of the source,the date your copy was published, the page numbers of the material you are borrowing.
This research guide will give you a brief overview of the most common citation styles and point you in the direction of more detailed resources and useful tools.
(image source: xkcd, used with permission CC by-nc)
Using Citations to Avoid Plagiarism
What is Plagiarism?
Many people think of plagiarism as copying another's work, or borrowing someone else's original ideas. But terms like "copying" and "borrowing" can disguise the seriousness of the offense.
All of the following are considered plagiarism:
turning in someone else's work as your own
copying words or ideas from someone else without giving credit
failing to put a quotation in quotation marks
giving incorrect information about the source of a quotation
changing words but copying the sentence structure of a source without giving credit
copying so many words or ideas from a source that it makes up the majority of your work, whether you give credit or not (see our section on "fair use" rules)
Most cases of plagiarism can be avoided, however, by citing sources. Simply acknowledging that certain material has been borrowed, and providing your audience with the information necessary to find that source, is usually enough to prevent plagiarism. For more information, check out our Plagiarism Research Guide.
"What is Plagiarism?" Plagiarism.org. Accessed February 16, 2011.